Ultimate Guide to

Estate Planning

Wills, trusts, and estate plans aren't just for the affluent. They are necessary in today's world, even for those who are young. If you don't have a plan in place, don't worry. It's not difficult to make an estate plan, regardless of your age.

Setting up an estate plan is simple and can often be accomplished very easily without the use of an attorney. LegalNature provides you with the information, tools, and forms you need. It's fast, easy, and affordable to put your estate plan into action today.
What Is an Estate?
Simply put, an estate is all of your belongings, money, and investments. The word estate may sound like a term used to describe only the wealthy, but everyone, regardless of status, has an estate. Your estate is your home, car, bank account, furniture, antiques and collectibles, family heirlooms—everything you own.
For most people, a simple estate plan is all that is required to protect the estate and ensure that it is properly distributed after death. The estate plan may include a will, living will, healthcare power of attorney, financial power of attorney, and trust.
Think about your possessions and consider who you want to have them once you are gone. This may not be as easy as it seems. If you don't specify who gets what, you may leave your family fighting over your belongings. Or worse—your estate could end up going to the state instead of a loved one.
There are several excuses people use to avoid estate planning. For example, one of the excuses is that you aren't going to die. If you think you're too busy to take care of it, understand that it only takes a few minutes to fill out the basic forms. If you don't want to consider death, keep in mind that you will leave your loved ones in a difficult situation should you die without a will.
It's better to be prepared and make sure your loved ones are properly taken care of than to die without a will.
You don't have to have a lawyer to set up your estate plan. LegalNature has all the forms you need.
Get started
Estate Planning Tip
Make a comprehensive list of all your assets including bank accounts, property, vehicles, and digital items.
What items are included in my estate?
Your estate is a term that encompasses everything you own. It also includes any outstanding debts you have. These can easily be sorted out and resolved using a comprehensive estate plan.
I don't own property; do I still have an estate?
Yes, every adult has an estate, even if it is neither large nor complex. If you own clothing, possessions, and a car, all of these are part of your estate. You do not have to own property to have an estate.
What Is an Estate Plan?
An estate plan protects your family and property after you die or become incapacitated. A strong estate plan indicates decisions regarding your health care and disposition of property after you die. Everyone, regardless of age or status, simply needs an estate plan.
Establishes who will acquire your belongings after your death.
Names an executor to handle your affairs after death.
Names guardians for minor children.
Creates a less stressful time for relatives and loved ones after your death.
Prepares for financial and medical decisions if you become unable to do so.
Helps avoid probate court and significant fees. Maintain the value of your trust.
There's more to estate planning than just the will. - NY Times
The goal of an estate plan is to transfer wealth in accordance with the wishes of the individual and establish guidelines for end-of-life care.
Estate Planning Tips
Make sure your estate plan gives clear, concise instructions to avoid confusion.

Let relatives and loved ones know that you have an estate plan.

Keep your estate planning documents in a place that is accessible after your death. Your LegalNature Dashboard is a great place.
I am young and have few assets; do I still need an estate plan?
Yes! Everyone may benefit from an estate plan. Your plan may be less complex than one for someone who is older or has more assets. At the very least, include a simple last will and testament along with a healthcare power of attorney to provide instructions in case you are unable to make important medical decisions for yourself.
Do I need an attorney to execute an estate plan?
You can easily create and implement the proper estate planning documents necessary. Many of these documents are available online at LegalNature and need only be filled out and notarized. Those with complex situations may want to consult with an attorney.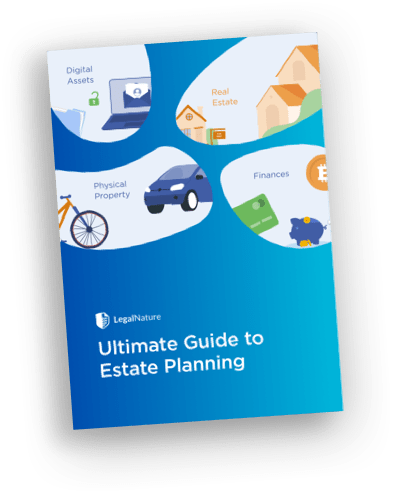 Download the Ultimate Guide
Take your time reading the Ultimate Estate Planning Guide. We can send it to you via email so you can read it whenever you have time.
What Is a Last Will and Testament?
A last will and testament is a document that outlines the final wishes of an individual. It may include as much detail as you wish. A will provides a way to distribute your assets in the manner you prefer. A last will and testament is the most basic of these types of documents. It is also the easiest to create and implement. Get started now with LegalNature's last will and testament form.
Establishes who will acquire your belongings after your death.
Names an executor to handle your affairs after death.
Names guardians for minor children.
Your will allows you to choose who receives your inheritance and determines guardianship of minor children. Your will should be kept up to date. Always make sure that you make appropriate changes to your will when they are necessary. This ensures that your estate is properly distributed!
If you die without a will the state is likely to decide who among your blood relatives will inherit your estate. - CNN Money
Once put into place, a will may only be amended with another legal document, called a codicil. The codicil form from LegalNature is a change to your will and is executed in the same way as the original will.
What will happen if I die without a will?
Generally speaking, your assets may not be given to those you intend. If you die without a will you die "intestate." The law then governs how your estate will be distributed.
Is it easy to create a last will and testament?
Yes! In fact, our form makes it simple to create your will. Simply fill in the necessary information, determine who will receive inheritance, and appoint an executor. Then, just sign the form with witnesses and have it notarized. That's all there is to it!
Get additional information from these reliable resources:
What Is a Living Will?
A living will is really not a will at all. It is actually a legal document that indicates how medical care should be administered at the end of life. The living will is also known as an advance directive or an advanced healthcare directive.
How is a living will used?
It does not take the place of a will or trust.
It is used prior to death and has no use afterwards.
It offers medical guidance to your loved ones.
It is easy to create, even without a lawyer.
One of the biggest misconceptions about the living will is that it is difficult to create and implement. This is likely why so many people fail to put one into place. However, in actuality, the advance directive is a very simple and easy document. Get started today with LegalNature's printable living will form.
It contains information about:
When to administer CPR and when to utilize a DNR (do not resuscitate) order.
Whether to be put onto life support.
When life support may be withdrawn.
Whether to donate organs after death.
It's very easy to set up a basic living will. You can fill out a legal advance directive form in just a few minutes. Use the form that is specifically provided to meet your state's requirements. Avoid high legal fees by using our online living will form. It will need to be filled out, printed, and notarized with witnesses.
The living will can take effect immediately once it is signed or may be put into effect when the person is not able to communicate his or her wishes. Even when it is in place, doctors will follow your own personal communication as direction until and unless that is no longer possible.
What medical wishes may I include?
As long as it's legal, you may specify any and all treatments that you wish to receive as well as treatments you specifically do not want. You can even state the exact circumstances in which you approve receiving certain treatments.
Can I use my own doctor?
You can specify the primary physician you want to use in the document. It's best to inform the doctor that you are designating him or her, since the doctor may have additional input on what you should include in your living will.
Get additional information from these reliable resources:
What Is a Healthcare Power of Attorney?
Did you ever consider what would happen to you if you became incapacitated and were unable to make important healthcare decisions? It happens every day—in fact, according to the CDC (Centers for Disease Control and Prevention) 2.1 million people each year enter the critical care unit after visiting the emergency room. A healthcare power of attorney is a legal document that allows a person you choose to make healthcare decisions on your behalf.
A healthcare power of attorney is also known as a healthcare proxy, or healthcare directive. It is often used in conjunction with a living will, and in some states one document handles both functions.
What does a healthcare power of attorney do:
Names the person who is able to make healthcare decisions if you are unable to do so.
States your personal desire for healthcare options.
States your choices regarding organ donation.
Lists instructions on how to handle your final arrangements.
I have a will; do I still need a healthcare power of attorney?
Yes, both a will and a healthcare power of attorney can, and should, work together. Your will does not provide for this important function.
Does an attorney need to draft a healthcare power of attorney?
No. While the information may be detailed, you do not require an attorney. Utilize a reliable source, such as LegalNature, to obtain the necessary forms.
Do I need to consult with a doctor before creating a healthcare power of attorney?
You do not need to consult with a physician. However, if you require specific detailed medical information, you may want to speak with your doctor first. You will find more information, along with a customizable healthcare power of attorney form at LegalNature.
Get additional information from these reliable resources: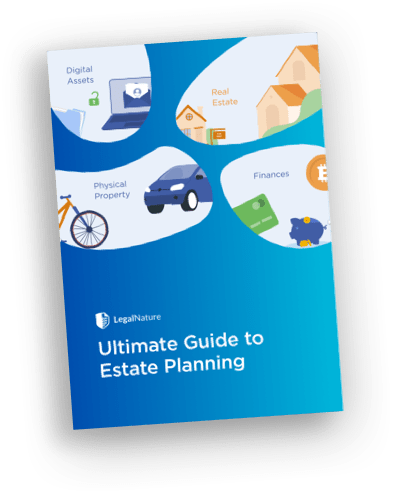 Download the Ultimate Guide
Take your time reading the Ultimate Estate Planning Guide. We can send it to you via email so you can read it whenever you have time.
What Is a Financial Power of Attorney?
If you were to become ill and unable to handle your finances, what would happen? For many people, the problem is all too real. You could lose your home, your car, or have your credit score negatively impacted. Yet, you can avoid any such potential problems with one simple document: a financial power of attorney.
The financial power of attorney lets you put someone in charge of your finances if you should become sick or debilitated. The person you name will be able to take charge of your finances on your behalf.
A power of attorney may be "durable" meaning that the person will take over if you are incapacitated. You may also choose to put someone in charge of your finances for a period of time. For example, if you are going to be out of the country for an extended period of time you may elect to give someone power of attorney to make payments, write checks, and take over finances while you are away.
It's easy to set this up with LegalNature's downloadable durable power of attorney form.
Financial Power of Attorney Tips
Be sure to state exactly what powers your choice of attorney-in-fact will have.

Create a notebook or file with all of your financial information included to make taking over your finances easier.

Review your financial information with the person who will take over your finances so they have an understanding of your general needs.
Who can I choose to appoint as my attorney-in-fact? Does it need to be a relative?
You can name anyone you choose. Please keep in mind that the person will have access to your accounts and will be making important financial decisions for you. Therefore, be sure that you pick a trustworthy person.
What happens once a financial power of attorney is in place?
Nothing happens until and unless there is a need. However, be sure to provide the attorney-in-fact with the necessary information to take over your finances.
What happens if I change my mind?
As with any type of will or legal document, the financial power of attorney can be rescinded at any time should you choose to end it. If you want to make a change, you will need to update your power of attorney, sign it, and have it notarized the same way you executed the first document. Only one power of attorney can be in place at a time. The most recent power of attorney takes precedence.
Get additional information from these reliable resources:
What Is a Trust?
A trust is a legal arrangement that allows a third party to hold assets on your behalf. The trustee is the person or entity that is designated to care for your assets. There are different ways that trusts may be arranged, depending on your needs. One of the main benefits of a trust is that it will usually allow the beneficiaries to avoid probate, thus giving loved ones faster and easier access to assets.
A trust may be revocable or irrevocable. A revocable trust is also called a revocable living trust. It offers more flexibility including the ability to make changes should they be necessary. An irrevocable trust may provide more tax benefits, but it cannot be changed once put into place.
Trusts offer a high degree of control over your assets and where they will end up. Probably the most important advantage of a trust is to provide tax protection. A trust usually holds your assets and property. You serve as the trustee of the trust during your life. After your death, another designated trustee takes charge.
Are there different types of trusts?
Yes, there are various types of trusts depending on your specific needs. A revocable living trust is the most common trust used for estate planning.
What is probate? Why avoid it?
Probate is a legal process through the court system that helps distribute your property after death. It can be a lengthy and sometimes costly process that may reduce the size of your estate and significantly delay disbursements to your beneficiaries.
How much property can I put into a trust?
You don't need to be uber wealthy to benefit from a trust. You may have a trust that holds title to just one property or many. You may also elect to keep some of your assets out of the trust if you prefer.