What Is Foreign Entity Registration & How to Register in Every State
Foreign entity registration is confusing for many people at first. This is because, although the term includes the word "foreign," it does not really have anything to do with conducting business in other countries in this context.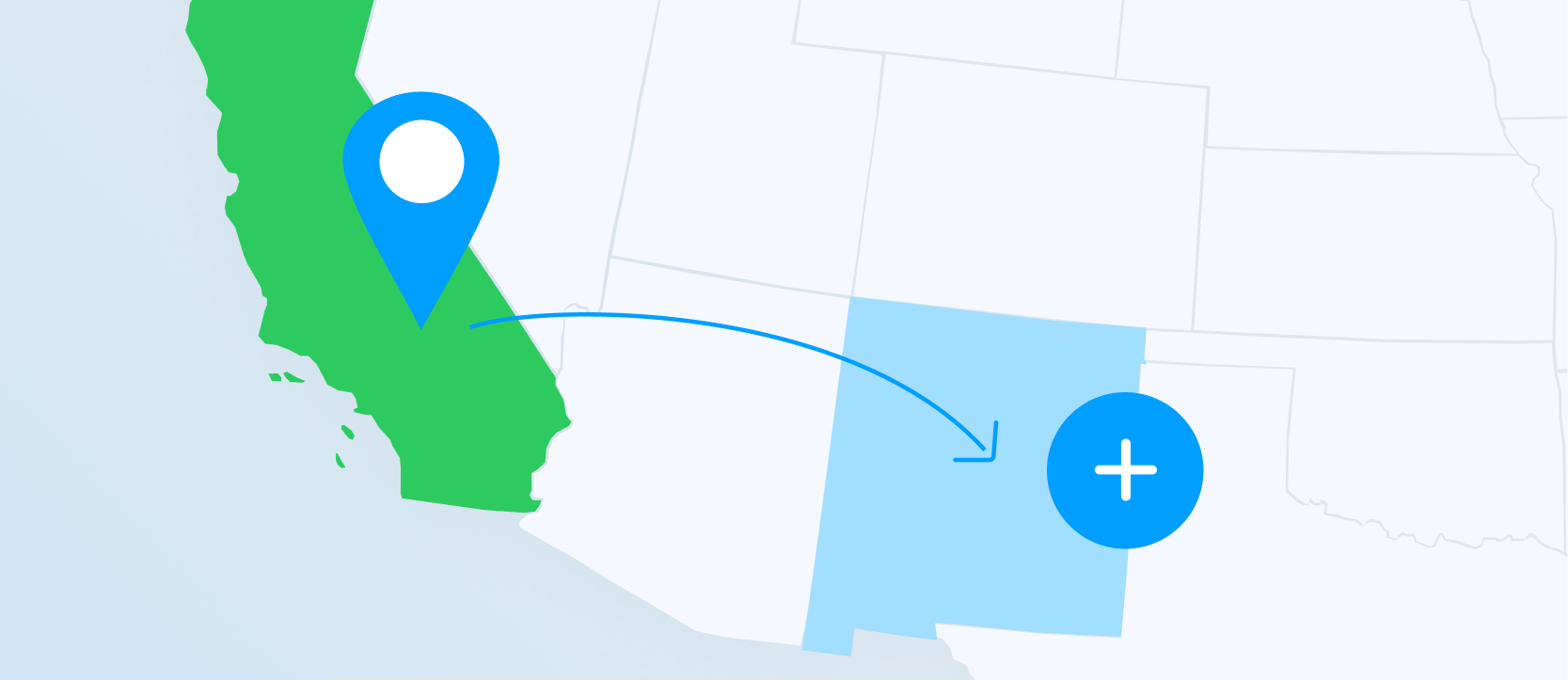 Foreign Entity Registration simply refers to the process of registering to do business in a state besides the one in which you formed.
If you are considering foreign entity registration for your business, it is important to know exactly what it is, how your business can benefit from it, and what you can expect through the process. You also want to make sure that you are conducting business legally and have as much protection as possible and avoid the risks of losing your business or causing damage to your personal finances. This article can help you determine whether your business is eligible for foreign entity registration and if it is the right decision for your company.
What Is Foreign Entity Registration?
At the state level, the designation of a foreign entity simply refers to a business that was formed in another state. Depending on the state, foreign entity registration may also be referred to as a certificate of authority, a foreign qualification, or a certificate of registration.

The state in which you chose to form your business is known as your home state or domestic state; therefore, your business is considered foreign by nature in all other states. By completing the formation process, you were granted certain protections provided by that state, including the right to represent yourself and your business interests in that jurisdiction. If you are interested in expanding your business operations to another state or states and would like to have the same types of protections that you enjoy in your home state, then you must register as a foreign entity. Completing this registration will also ensure that you are legally allowed to conduct business in that state.
When Do You Have to Register as a Foreign Entity?
Foreign entity registration is required anytime you wish to legally conduct business in another state. For example, if you formed your business in Nevada but you live and intend to operate in California, then your business will be considered foreign in California and require registration. You will also need to acquire a foreign entity registration if you are planning to expand your business across state lines; for instance, you might want to acquire property, expand operations, or hire employees in another state.

While you will only file articles of incorporation or organization in one state, you can file foreign entity registration in many states, and you should be sure that your business is properly registered in any state where you intend to conduct business.

To determine whether you should apply for foreign qualification, you first need to understand whether your activities qualify as "doing business" in a state. There are many different factors taken into account when determining eligibility in each state, but the following are some basic questions to help you make a broad determination.

If you can answer "yes" so one or more of these questions, you likely qualify to register as a foreign entity":
Do you have one or more employees in that state?
Does your business have a physical presence in that state? This can include a warehouse, distribution center, an office, or a storefront.
Do you take orders in that state?
Does your business have or plan to open a bank account in that state?
Does your business own or intend to purchase any property or real estate in that state?
Does your business earn revenue in that state?
Does your business pay any taxes in that state?
If any of the above applies to your business, or will in the near future, then you are likely considered to be a foreign business operating in that state. There is also some variation in state rules for acceptable activities. Most of the time, isolated transactions or selling products to customers in another state, but still conducting all business aspects in your home state, may not automatically be considered a foreign entity doing business. Check the requirements and qualifications for the specific state you wish to register in.

How to Register as a Foreign Entity in Every State
While the process varies slightly depending on the state, there are a few steps you can expect as part of the general procedure in any state.
1. Conduct a name availability search
During this process, you will ensure that the name of your business is not currently being used in that state by another company. You can also check for any other business names currently in use that are similar to your corporation or company's name. This is important in order to prevent any confusion within that state; for example, if another business is already well established in that state, you could be at a disadvantage in trying to distinguish yourself and cultivate brand recognition with the public, particularly if the other business operates in a similar sector. This step can also help prevent business name disputes in the future since you have done your due diligence to ensure there are no violations.

If you do find that the name of your company or the name that you intended to use is not available, then you will be required to use an assumed or fictitious name in that state in order to continue with the process of foreign entity registration. This is known as a "Doing Business As" trade name.
2. Select a registered agent to represent your business in the state
This individual will be the in-state liaison for your business. A registered agent is the person responsible for accepting all service of process documents as well as any official state communications. These can include wage garnishments for your employees, tax documents, and more. While you do have the option to have someone in your company live in that state and perform these duties, this is not necessary; there are professional services that can help you choose a registered agent.

Since their main duty is receiving mail on your behalf, you need someone who will be reliable with this task and will forward any mail to you promptly so that you can handle it in a timely manner.
This certificate will document that your business legally exists, has met all of the requirements that the state has imposed, and is up to date on all applicable fees and taxes.
Some reasons that your business may not be in good standing can include failing to pay annual fees or franchise fees, being late with payments, or failing to file annual statements.

You will want to make sure you have submitted all payments and filings correctly and on time so that your business can remain in good standing with the state.

If you apply for foreign entity registration and it is found that you are not in good standing with your home state, then your application will more than likely be rejected.

Some states will require you to submit a certified copy of the formation documents from your formation state, including any amendments you may have.
State fees for filing foreign entity registration vary widely and generally you can expect that fees will be lower when filed online, with a few exceptions. You may also need to pay name reservation or other fees while registering in some states. Most states will also require annual reporting and other requirements that are similarly imposed on domestic businesses (businesses that are formed in that state).

The following minimum filing fees are accurate as of 2021 for registering a foreign LLC or profit corporation. In most states, you can expect lower filing fees for nonprofit corporations.

Alabama: $150
Alaska: $350
Arizona:

$175 for Corp, $150 for LLC

Arkansas:

$270

California:

$100 for Corp, $70 for LLC

Colorado:

$100

Connecticut:

$385 for Corp, $120 for LLC

Delaware:

$245 for Corp, $200 for LLC

District of Columbia:

$220

Florida:

$70 for Corp, $125 for LLC

Georgia:

$225

Hawaii:

$50

Idaho:

$101

Illinois:

$175 for Corp, $150 for LLC

Indiana:

$108

Iowa:

$100

Kansas:

$135 for Corp, $185 for LLC

Kentucky:

$90

Louisiana:

$125 for Corp, $150 for LLC

Maine:

$250

Maryland:

$155

Massachusetts:

$390 for Corp, $520 for LLC

Michigan:

$60 for Corp, $50 for LLC

Minnesota:

$205 for Corp, $220 for Corp

Mississippi:

$500 for Corp, $275 for LLC

Missouri

: $105 for LLCs, $159 for Corp

Montana:

$70

Nebraska:

$150 for Corp, $120 for LLC

Nevada: $425 for LLCs; for Corp filing fees are based on value of shares, starting at $725
New Hampshire: $100
New Jersey: $125
New Mexico: $100 for LLCs, fees calculated starting at $200 for Corp
New York: $255
North Carolina: $250
North Dakota: $135 for LLCs, $145 for Corp
Ohio: $99
Oklahoma: $300 for LLCs, fees calculated starting at $300 for Corp
Oregon: $275
Pennsylvania: $250
Rhode Island: $150 for LLCs, $310 for Corp
South Carolina: $125 for LLCs, $150 for Corp
South Dakota: $750
Tennessee: $300 and up ($50 per member) for LLC, $615 for Corp
Texas: $750
Utah: $70
Vermont: $125
Virginia: $100 for LLCs, fees calculated starting at $75 for Corp
Washington: $200
West Virginia: $150 for LLCs, $100 for Corp
Wisconsin: $100
Wyoming: $100
What are the General Requirements for Registering?
You will need to make sure that you are following proper protocol and providing complete documentation as required by the specific state in which you are registering. In general, you can expect that the following information will be requested in most states while preparing your application.
Company name/legally registered names in your home state, as well as any other names for the foreign state (if applicable)
Formation state and date of incorporation or organization
Principal or legal address of the business in its home state and the state of qualification
Names and addresses of officers (for corporations) or members (for LLCs) in all states
Name and address of the registered agent in the state of qualification
Number of authorized shares and a listing of the different classifications of stock (for corporations), if applicable
Signature of a corporate officer, often the president (for corporations) or a member (for LLCs)
The type of management your company has (for LLCs)
Some states also require some additional information. The following are some examples of other possible items that could be required for your registration.
The duration of the corporation or LLC
The names and addresses of directors (for corporations)
Various financial details, including information on assets
The number of issued shares of stock (for corporations) as well as when and how they were issued
Specific business purpose clauses outlining the type(s) of business the company will undertake
Other supporting documentation for your specific business
Once you have gathered all of the necessary information, you can submit your application, along with a certificate of good standing, a certified copy of your formation documents (if applicable), and any other required documentation to the appropriate state agency. You will also need to pay the required state filing fees for foreign entity registration. The amount of time you wait for a decision will vary depending on the state. In most cases, you can expect to wait around six to eight weeks unless you have been told otherwise.
What Can Happen If You Fail to Register?
There are several benefits to foreign entity registration, including maintaining liability protections and the right to participate in legal proceedings, but the main advantage of registration is avoiding potential penalties in the future. You want to make sure that your business is in good legal standing for every state it operates in.
There will be initial state fees involved, as well as state-specific regulations, annual filings, and sometimes even annual fees to abide by when you register as a foreign entity. However, do not be put off by the initial costs or a few extra steps that are involved with registering to operate your business as a foreign entity. If you are found to be conducting business in a state where you have failed to register properly, this could cost you much more in the long run and may have a negative impact on your business as a whole.

There are a few major legal consequences you may face if you fail to register, including the following:
You can forfeit your right to bring or defend against a lawsuit involving your business in that state or you may be barred from using certain defenses in a lawsuit. For example, if you have a contract dispute with a person or another business, you may not be able to enforce that contract or sue for damages. While you may be able to follow up on a lawsuit if you register as a foreign entity later, this is a big risk and can take extra time to resolve the dispute or even participate in the legal process.
You may not even receive notice of a lawsuit until after a judgment has been made against you, simply because your business was not registered in that state.
You stand the chance of losing your limited liability status if you conduct business in a state without the proper legal paperwork in place. This will put you as an individual, as well as your business, at risk.
Additionally, you may be subject to fines, required to pay back taxes, or hit with other penalties from the state for the time spent conducting business in that state without having been legally registered. Once it has been discovered that you are operating without legal registration, the state will want to recover any taxes and other fees that they would have received and in some cases, may assign hefty fines or serious penalties as well.
How to Get the Legal Forms that Your Business Needs
LegalNature's business services can help you streamline the process of foreign entity registration in any state.

Easily request a certificate of good standing or create your business formation documents if you are just getting started. LegalNature offers a variety of customizable services, such as registered agent services, in order to simplify the procedure and allow you to focus on running your business.

Keep your business in good legal standing and make sure your company is as successful as possible.